"A Toast to the Union"
A Toast to the Union, sixth studio recording at Canyon with Neil J. Young. Salute to my strange, raggedy community of misfits. Jim Nelson on banjo, Steven Strauss on bass, Kerry Parker on fiddle.
Some of these songs (or poems if you prefer) are found in publications by the Revolutionary Poets Brigade which, against all odds, continues to use poetry, song, art, and community to create a path to justice and joy.
"Maggots in the Sheep Hide"

This 2009 studio recording with Jim Nelson and Steven Strauss is all traditional material.

These are songs and tunes we love and usually play on the street in the cold for nickles and dimes and the occasional five from someone who understands.

We do this partly so kids don't think music comes out of boxes and gadgets.

Maggots in the Sheep Hide is an old Sarah Armstrong fiddle tune I learned in West Virginia.

"The Riley Boys"

This 2009 studio recording includes the anti-war ballad "It's Better Not to Sail" and "Where'd the Money Go?", which was played on National Public Radio to illustrate the financial bailout.

We applied, of course, for bailout funds to finish this CD, but apparently our corporate jet was not big enough.

"The Riley Boys", written about the war, is currently being sung by Finest Kind, the preeminent Canadian folk trio.

The Rich Will Never Be Poor

The oldest studio recording featuring session players Nina Gerber, Brian Theriault, Doug Adams, and Radim Zenkl, engineered by Neil J. Young at Canyon Studios. The early tapes are great, but this was the first opportunity to have studio fidelity and a master behind the faders. Those who know Neil know he is simply the king. The title tune is played on a Stagi, by the way, in case you have an attitude about the cheapest English concertinas, which is all I had at the time. (tapes available)


The Cruel Lullaby

The second studio recording with PG&E song, alternatively titled Write the Check and Shut Up, which was published by the San Francisco Bay Guardian after they heard it at a public power rally.* Who Built This House, and micropower radio's Set Your Radio Free, with session players Radim Zenkl, John Wetzel of South Carolina, and Jim Nelson. (tapes available)

* PG&E had just gone bankrupt, and the song is a serious lament for a corporation in pain.

"You Are Spending Too Much Money on Your Hair"

Studio recording with acoustic bassist Steven Strauss, Frank Buffum, Rob Sherman, Jim Nelson, John Wetzel, and David Strong. It's Not Police Surveillance, It's Love grew out of a conversation between me and my good friend Keith McHenry, who, like me, has enjoyed a very close relationship with law enforcement. (tapes available)
Tapes - the earliest recorded material, limited supply.
North County Jail North County Jail, the oldest recording with the original cuts of "Winter and I" and "Treasure," tapes only.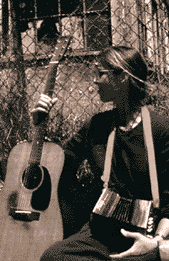 Failure to Disperse Failure to Disperse, recorded in 1997. "Set Your Radio Free" was written the night of a significant court victory for micropower radio, tapes only.
What If Love What If Love also recorded in 1997. The title song is a meditation on unconditional love, tapes only.
Click the guitar for a handy order form.
* PG&E had just gone bankrupt, and the song is a serious lament for a corporation in pain.

Return to home page
---