---

Music, Politics, and the Metal Reed
Honest tunes and politics served just as friendly as breakfast.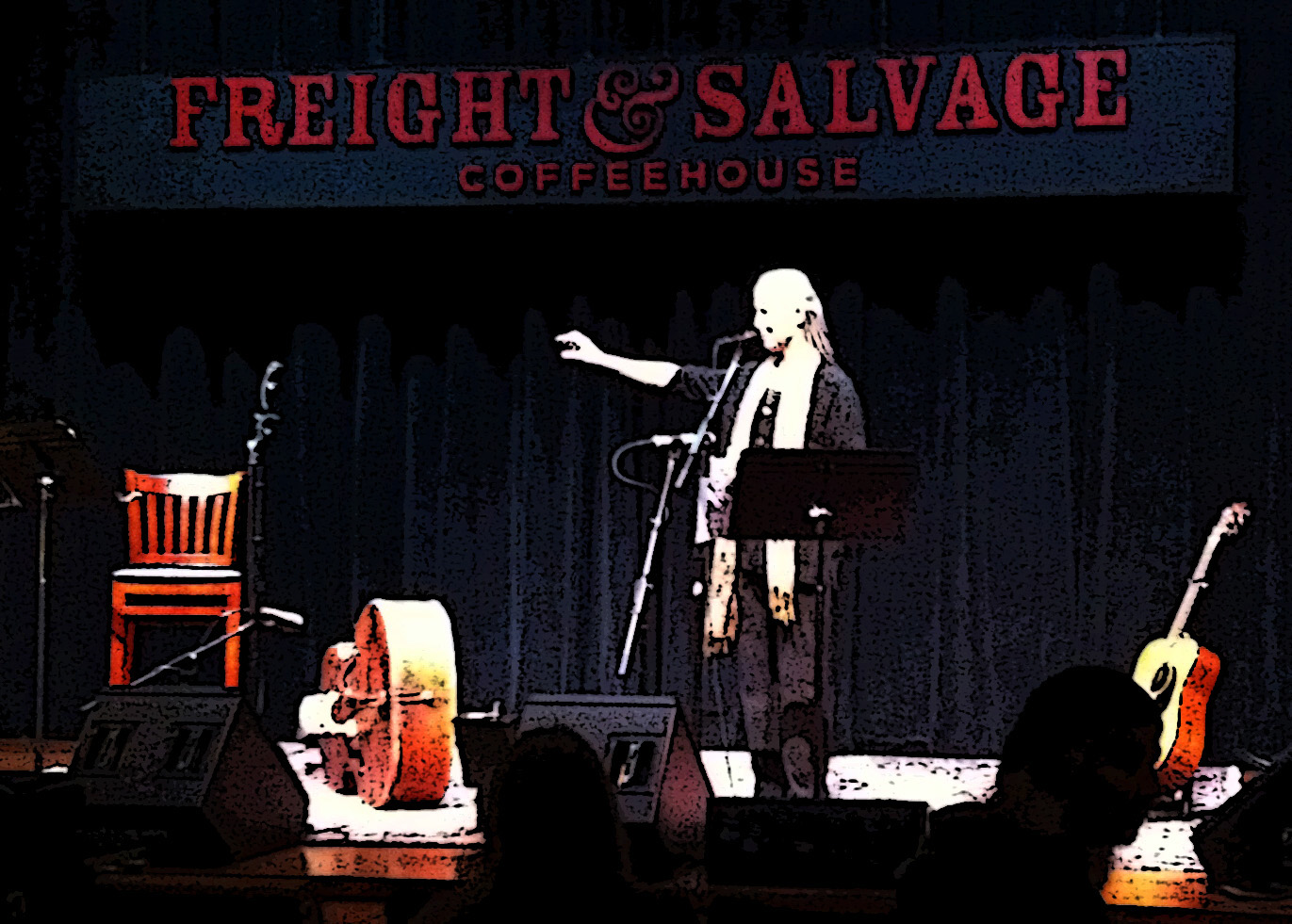 Award-winning lyricist, published poet, guitarist, fiddler, and concertina* stylist, stencil artist, "Fiddlers for Peace" founder, curator of the "Deep Poetry Project", and editor of the Pepper Spray Times. 2004 honoree by the City of Berkeley for homeless advocacy, 2003 honoree for civil liberties activism through music, humor, and art by the Berkeley Commission on the Status of Women, winner of the East Bay Express' readers' poll "Best Solo Performer" for 2002, and selected as one of the San Francisco Bay Guardian's 2001 "Best of the Bay". Featured writer at the Centre for Political Song, Glasgow Caledonian University in Scotland, microradio pioneer with Free Radio Berkeley, etc. Failure to Disperse Acoustic Revolt and Road Show ensemble and solo performances. Spiritual advisor and graphic production for the Best of Blasphemy project in Canyon, California. Published commentator in local and national fora. Proud part of the Folk This! extended family. Winner of the 2009 Oldtime Spirit award from the Augusta Music Heritage Festival, voted best female artist at PirateCat Radio in SF in 2010. Nominated to the Revolutionary Poets' Brigade by former poet laureate of San Francisco Jack Hirschman in 2010. Inventor of the chairapillar. Organizer of the 2012 Olympic Sitting Competition. Cast member and contributing writer on the esteemed production of KPFA's TwitWit Radio produced by George Coats, live radio comedy on Sunday Nights from 6:30 pm to 7:00 pm. Performing at Bay Area venues...
Reader's Cafe poetry series at San Francisco's Fort Mason, 6:30 pm, Thursday, May 1, 2014. Carol Denney with the legendary Jack Hirschman, poetry and song. Readers Cafe & Bookstore is the place to be to hear poetry's top names. Enjoy specially priced drinks and snacks all while supporting the San Francisco Public Library. Curated and Hosted by Friends of the SFPL's Poet-in-Residence, Jack Hirschman.

Borges Ranch Centennial celebration, 11:00 am, Thursday, May 17, 2014. Carol Denney, Pat Reed, David Brown, Ingrid Crickmore, Bob Ellis, and Dan Kluger play old-time music for the heritage event which also features pony rides, craft tables, wildlife displays, and demonstrations of ranch life from 100 years ago.

Saturday, July 12, 2014, Laborfest - People's Voice for a Planet Free of War, 7- 8:30 pm. music of labor poet/singer Carol Denney, poets Jack Hirschman and Nina Serrano, additional speakers from the Revolutionary Poets Brigade, and Unitarian Universalist Forum, refreshments provided. Unitarian Universalist church Martin Luther King Room , 1187 Geary St. at Franklin, San Francisco, CA.

Saturday, July 19, 2014, Meiklejohn Civil Liberties Institute Benefit, at the Institute, 1:00 pm to 4:00 pm, Berkeley, CA.

Saturday, July 20, 2014, Laborfest - Ferryboat Labor tour of San Francisco Bay boarding 5:45 pm at Pier 39. An all-labor crew and local ironworkers, labor leaders, and historians give you a special guided tour with live music by Failure to Disperse and dinner. Contact Laborfest for details, San Francisco, CA.

Augusta Music Heritage FestivalAugust 1- 13, 2014,

I'll be fiddling with Waltz Across Breakfast. Come to West Virginia and hear the music you will hear nowhere else.

Wednesday, September 10, 2014, 8:00 pm, Freight and Salvage CD Release- CD release for new recording "Unless of Course You Die" with Steven Strauss on bass and special guests.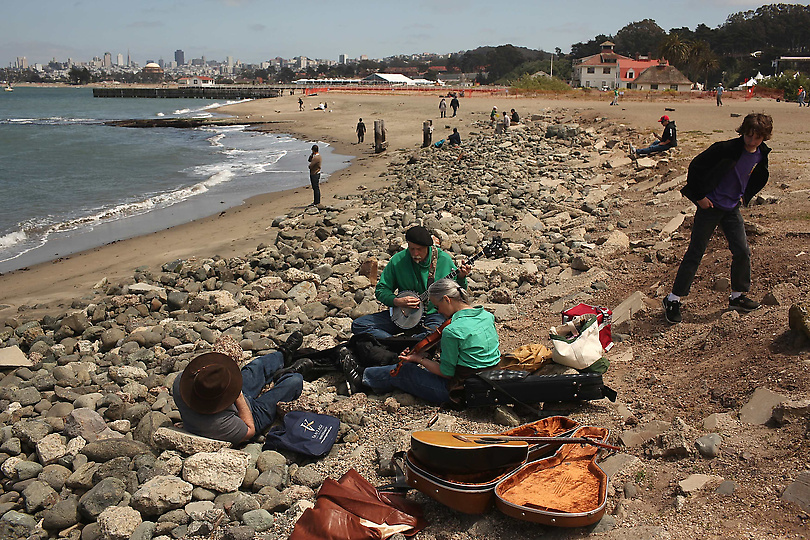 (Photo to the left) Jim Nelson, Jack Chernos, and Carol Denney played for the 75th Anniversary of the Golden Gate Bridge, then just went down to the water's edge and jammed with the fishes.
... pick up some recordings:, also available at Downhome Music (www.downhomemusic.com), and CDBaby.
How to Build Your Own Concertina , a step-by-step instruction for beginners.
How to Make a Cardboard Traveling Crankie Theater and delight the world.
Some crankies on YouTube, for frame of reference:
Unless Of Course You Die
http://www.youtube.com/watch?v=zat5CN_fmxQ
The People of the Cone:
http://youtu.be/1gnTxijepAI
The Cell Phone and the Sea ...
http://youtu.be/5IznO_6K0t0
"It's Not Police Surveillance; It's Love"
http://www.youtube.com/watch?v=lFrCKeKao3s
May 2014 issue of the Pepper Spray Times.

April 2014 issue of the Pepper Spray Times.

March 2013 issue of the Pepper Spray Times.

http://www.kpfa.org/archive/id/81364

The link above is the URL for a rare 28 minute version of the May 4, 1999 Berkeley Mock City Council recorded at the old Berkeley City Hall and re- broadcast Sunday June 10 on TwitWitRadio 7 pm KPFA 94.1 FM The Berkeley Arts Festival Producer Bonnie Hughes and Ed Holmes (Mr. Madam Mayor), Kurt Reinhardt (City Manager), Carol Denney (City Attorney) Chris Welch (City Clerk), Council Members Diane Amos, Betty Halpern, James King, Karen Ripley, Selma Spector, Stoney Burke, Hali Hammer, Public Comment Michael McDonald (aka Dr. Skank Director of the UC Radiation Lab) Produced by GCPW http://www.kpfa.org/archive/id/81364

A video of the song "Raised to be a Lady" is at this YouTube address: http://www.youtube.com/watch?v=40G6SG3gILA

A video of the song "The Song of the Wealthy Man" is at this link: http://www.youtube.com/watch?v=5yO4qgqx0aE

The Best of Blasphemy, a project carefully guided to fruition by its spiritual advisor Carol Denney, is now available at http://www.thebestofblasphemy.com/index.html .

Politics gets funnier as it goes along.

Laura Drawbridge's original Free Radio Berkeley transcripts.

Drop the SLAPP-Suit: The Real News About People's Park. The real improvement to People's Park isn't anything physical, and they won't let you talk about it.

Life Is Much Better in Jail
New, Enhanced Rules for People's Park
"Bob's Blankets", A short story in remembrance of Bob Nichols.
"Save the Trains - Stop the Politicians"
"For the Gates, a song for San Quentin"
"Another Puppet Committee, or, The Canary in the Freebox"
Don't think for a minute that Berkeley has free speech...1-17-05
"What's going down now in People's Park: donate clothing, get a ticket - how Berkeley can you be?"

Favorite moments in media.
A Simple Music Lesson.
The Deep Poetry Project...The the money spent on Berkeley's most recent "arts district" project brought about the "Deep Poetry Project", poetry about holes, to highlight the disparity between Addison Street's poetry-pocked sidewalks and west and south Berkeley sidewalks, laden with the essence of evocative art, the hole...
Politics is always worth thoughtful contemplation.
10 Myths About the Freebox in People's Park.
Song for Kevin Freeman, killed in jail for no reason.
Myths about political songs.
The short story of micropower radio.
Don't miss our novel feature, the Poetry Corner.
The Simple Ways to Improve the World page.
"Fiddlers for Peace" page.
Homelessness and the 647j campaign in Berkeley.
Paraleiptic Audio Analysis. The seminar which will change your life, make your bed, and do your laundry.
Observations on World News. Commentary for the bewildered.
The SLAPP-Suit. The People's Park free speech anomaly still unresolved.
Your personal Permit to Stop the War. Be sure your friends have one.
The Pepper Spray Times. The newsletter for the very brave.
Bio of sorts.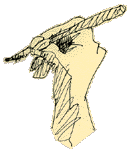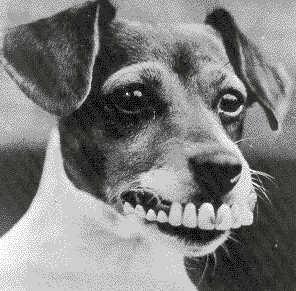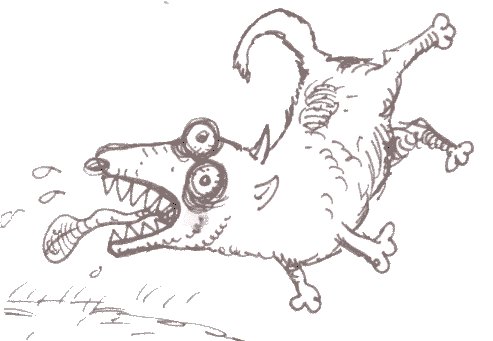 Click the writing hand for critics' comments.

Click the concertina for information without which you may well perish.

Some people can't get enough gratuitous commentary.

You can email your orthoepic observations to " cdenney (at) igc.org ."


Photos by Mark Nelson, Michele Thomas, and the Cliff House camera booth.




Pepper Spray Times artwork by Roger Dondis, other artwork by C. Denney
---